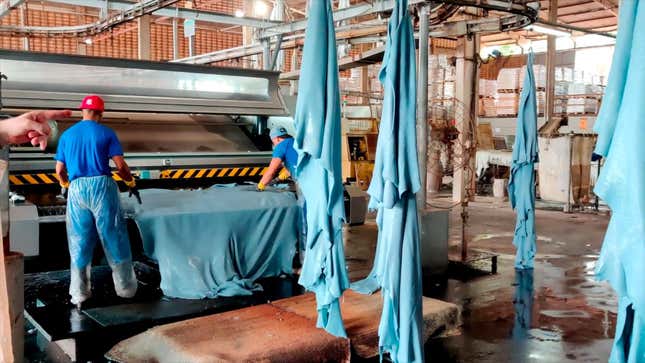 The largest leather seat maker in the world is under investigation for alleged environmental and human rights abuses along its supply chain. Congress is expanding an ethics probe to include the Michigan-based Lear Corporation, which is a major supplier for carmakers including GM, Ford, Toyota, and Ram, as the Washington Post reports.
The congressional probe is looking into Lear's supply chain, claiming its hide producers in Brazil are contributing to illegal deforestation in the Amazon, and that Lear's downstream suppliers are using slave labor to produce hides that go into thousands of cars sold on the U.S. market. Congress is now investigating whether Lear is taking leather from these questionable sources without properly vetting its origin and willfully turning a blind eye to its suppliers' activities.
The probe cites an operation by the Environmental Investigation Agency, which traced the source of hides from Brazil's top three leather manufacturers — JBS, Vancouros and Viposa — to illegally raised cattle.
It would be easy to dismiss the claims of Lear's collusion if it weren't for the sheer amount of leather from Brazil's biggest tanneries that's funneled into Lear's production: roughly 20 percent of all leather car seats in the world are made by Lear using Brazilian hides, which is why congress is getting involved.
A congressional committee is putting Lear on alert, and asking the major supplier to provide a thorough account of where its leather comes from. Per the Washington Post:
Senate Finance Committee chair Ron Wyden (D-Ore.) on Monday sent a letter to the Lear Corporation, the world's biggest supplier of leather car seats, demanding that the company account for its relationships with firms suspected of engaging in Amazon deforestation and forced labor. In the letter, Wyden expressed skepticism of Lear's claims that it meticulously monitors the practices of the Brazilian cattle firms that supply it, with a list of pointed questions about how Lear polices those businesses.

Lawmakers are taking aim at industry policies that boast of accountability and sustainability but allow suppliers to use what critics say are bookkeeping tactics to mask abuses. Big automakers and the firms they contract with often do not aggressively enforce their ethics policies on businesses that sell to other companies up the supply chain before those parts and materials make their way to the carmakers. It creates a loophole, critics say, through which unscrupulous suppliers — and, by extension, big auto companies — are able to exploit forced labor and ignore environmental rules.
The suspicion is that automakers and their suppliers are using downstream suppliers to put distance between them and alleged human rights and environmental abuses. These Brazilian tanneries are essentially suppliers for suppliers, and that buffer ultimately allows automakers to absolve themselves of any abuses.
For its part, Lear says it will respond accordingly to such abuses, including terminating contracts with certain suppliers when necessary. Carmakers have also responded to the probe, with GM reportedly saying "that it enforces a strict environmental and human rights code of conduct on its direct suppliers and 'expects that its suppliers will cascade similar expectations through their own supply chains.'" But congress remains unconvinced, and the investigative probe is moving forward.