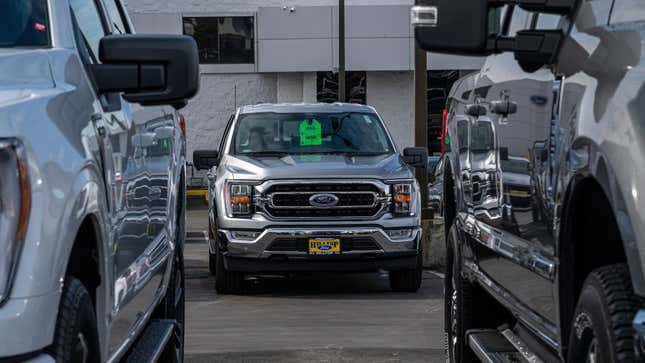 After all the supply chain constraints of the last few years, supply of new and used cars is finally stabilizing at dealers. Prices are also reportedly leveling off, but, now, people are struggling to get car loans in the wake of historic loan delinquency and default rates, as USA Today reports.

Fewer New-Car Leases Means Disaster for the Used-Car Market
Delinquency rates on auto loans are hitting record highs: in May 2023, the number of severe delinquencies matched that of 2006, when Cox Automotive first started tracking these. You'll notice that's around the time of the mid-aughts recession. A loan is labeled severely delinquent after being past due for more than 60 days, while a default applies at over 90 days, per USA Today.
And default rates are also higher than they've been in years, matching those of 2019 — just before the onset of the global pandemic. Clearly, something is amiss among buyers who keep getting two or three months behind on their payments.
That could have something to do with the monthly cost of auto loans, which are now also higher than ever. The number of Americans paying over $1,000 per month for their cars was greater than 17 percent by the end of this summer. And as the credit balances of buyers in the U.S. goes up, so does the risk of loans going into default, according to lenders, at least.
The result of all this is that popular lenders and banks such as Fifth Third Bancorp, U.S. Bank, Citizens Financial and Capital One, are turning away buyers and rejecting loan applications, according to USA Today and the feds:
The Federal Reserve said the rejection rate for auto loans in June rose to 14.2% from 9.1% in February, the last time the survey was taken. That was the highest level since this data was first collected in 2013 and for the first time, exceeded the application rate.

The Fed said the average reported probability that an auto loan application will be rejected increased sharply to 30.7%, the highest level since the Fed started collecting this data in 2013.
For the first time ever, car buyers in the U.S. are almost one third as likely to be rejected come application time at their dealer's finance department as they are to be approved.
The report concludes with advice for car buyers, who are told they should "come to the table" with a budget that accounts for their interest rate as well as their monthly payment. Interest rates have surged lately, meaning that many drivers may be tempted to extend their loan term to lower their monthly payment, but experts warn against it due to risk of falling into a negative equity trap. Experts also recommend buying a "less fancy car," which seems a bit tone-deaf, as cars no longer have to be fancy to be expensive.