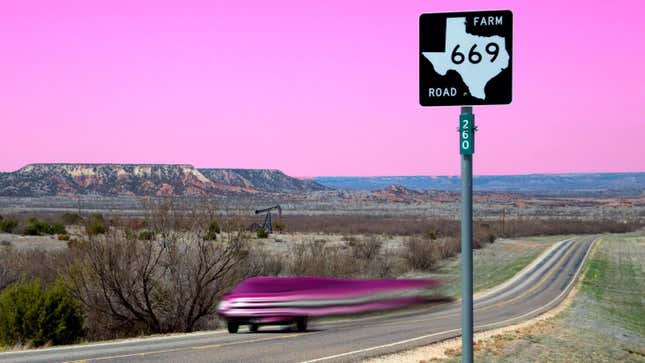 Texas is trying to curb speeding in the state due to a high rate of fatalities that can be traced to speed-related car crashes. This summer, the Texas Department of Transportation is launching a "Be Safe. Drive Smart." campaign, which is all about convincing drivers to slow down on the state's high-speed roadways.

It's no secret that Texas has some of the highest posted speed limits — if not the highest — in the United States: one of the toll roads outside of Austin, Texas, has a limit of 85 miles per hour, which is absurdly fast. Outside of that toll road, many of the state's highways have 75 mph limits. That may not seem nearly as absurd as 85 mph, but when you consider that some drivers give themselves a tolerance of about five miles faster than posted limits, we're talking about Texas motorists routinely driving between 80 and 90 mph on any give stretch of road.
And these speeds are resulting in a high number of deadly crashes, which the state is trying to curb by policing highways more strictly. Per TxDOT:
Last year, a third of the people killed on the road were in a crash that involved speed. This translates to 1,469 lives that were lost on Texas roads in speed-related crashes.

"Getting to your destination two or three minutes faster just isn't worth the risk of a crash and causing harm to yourself or others," said TxDOT Executive Director Marc Williams. "Motorists who observe the speed limit and match their driving to road and weather conditions can help prevent crashes."

TxDOT's speeding awareness campaign coincides with Operation Slowdown, a statewide, high-visibility speed enforcement period. From July 14 through July 30, Texas law enforcement agencies are stepping up efforts to get drivers to slow down or pay up.
The DOT adds that excess speed is the leading cause of road crashes in Texas, and it's behind a third of all traffic fatalities in the state. The issue has been ongoing for at least two years, and this year's awareness campaign marks the second such effort in Texas. The DOT ran the same campaign last year, after deaths due to speeding went up by eight percent.
In 2021, the number of fatalities caused by speeding was 1,532, while serious injuries were at 6,493. That year, the total number of crashes due to excess speed was greater than 163,000. In 2022, fatalities were down to 1,469, while total number of crashes was over 162,000, according to KVIA. Despite the drop, the needle hasn't moved with enough urgency in the last year. Crashes are still happening, and drivers are still dying in Texas, per KVIA:
El Paso saw its 44th traffic fatality on Saturday. Four cars were involved in a fatal crash in West El Paso. Three of the cars were at a complete stop at a red light, when a 4th car rammed into one of the cars at full speed. Resulting in the death of an El Paso woman.

Accidents like this have prompted TXDOT to launch a speeding prevention campaign.
The state doesn't disclose precisely where all the fatalities are happening, or whether these are occurring along what we could call the Texas Autobahn near Austin. But given the lower amount of traffic on State Highway 130, it's not likely drivers are dying at disproportionate rates on that stretch of road. The fact that the toll road seems necessary to many is a testament to the attitudes that drivers in Texas have when it comes to speed. Texans do like to drive fast.