Picture it; Los Angeles, 2024, and there's a new generation of a storied two-door coupe (an actual coupe) that comes standard with a 6-speed manual transmission and a vicious five-liter V8 under the hood. "Why, Erin," I hear you say, as your weary gaze lifts to the clearing skies after your drowsy drive into work via your anemic PHEV. "Such a thing is not possible."

Ford Has Built 150,000 Mustang Mach-Es Already
I say, open your eyes, child, and gaze on the attainable dream that is the Ford Mustang GT. Power and personality in a package accessible to at least those who have made it all the way to middle class.
It's a car that literally made one of my dreams come true: to drive Angeles Crest Highway. While I've been to L.A. loads of times, I haven't had many opportunities to drive the historic and legendary route myself.
Full Disclosure: Ford flew me out to Los Angeles and put me up in a hotel in order to give myself and fellow guest journalists a fully gassed up Mustang GT Performance Convertible for a morning of blazing up and down the Angeles Crest Highway.
The Mustang GT is a step above the EcoBoost in performance and price. Swapping out the 2.3-liter, 315-horsepower EcoBoost engine for a mighty Coyote 5.0-liter V8, the GT gets you 486 hp and 415 lb-ft of torque — the most powerful Coyote engine yet. And let me tell you; the sound this new dog makes when howling down a closed stone tunnel is truly special. The vehicle I drove was top-of-the-line and fully loaded; a Ford Mustang GT Convertible, with an MSRP of $52,515.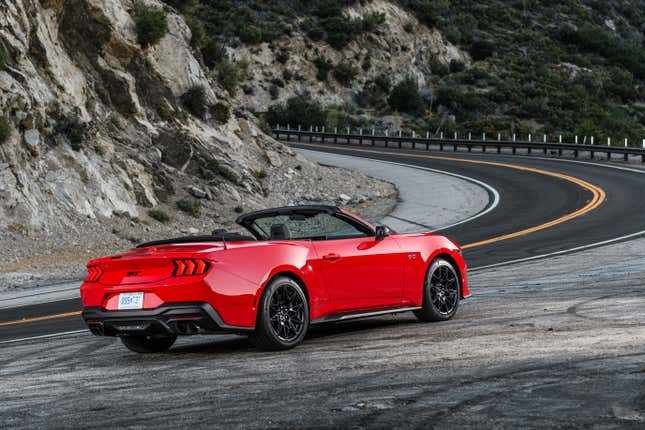 With the GT, you get a more aggressive, open grille to allow for more air flow. New hood vents and a redesigned front splitter also go a long way towards letting everyone know just what kind of pony showed up for the rodeo.
The Performance Pack in both the EcoBoost and the GT includes track-ready goodies like a Torsen limited slip differential, wider rear wheels and tires, and Brembro brakes. The GT comes with a few special options, however, like brake ducts for even more cooling, optional RECARO seats and active exhaust. The GT also gets 19-inch wheels standard, as well as real leather seats and optional 20-inch alloy wheels.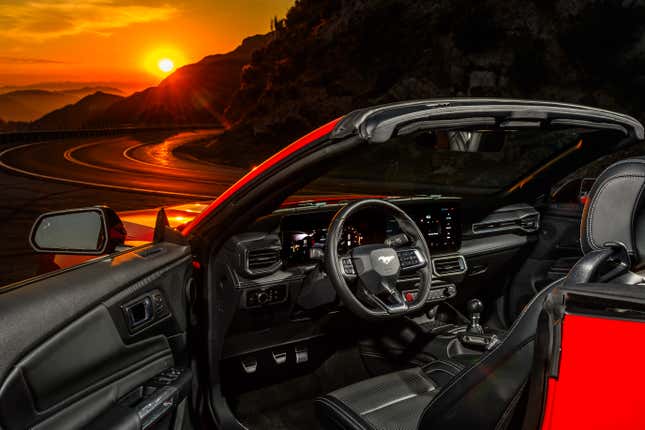 The GT comes with the same completely updated digital cockpit as we described in our EcoBoost review, but here's a rundown; two curved screens tilted towards the driver make up the 12.4-inch digital instrument cluster and the 13.2-inch center stack. Both are built in the video game creation software Unreal Engine, and provide beautiful animated graphics, intuitive touchscreen for less vital systems with plenty of color and layout options to make your Mustang your own. Ford's advanced driver assistance system, Ford 360, is also an option that will give you one of the best Level 2 self-driving systems on the market.
Ford says 27 percent of GT buyers are going to go for the manual transmission. While these are still only a happy few, it's a heartening take rate. The GT is a driver's car after all and it wouldn't do to not row your own gears. You can expect plenty of low-range torque in the first few gears with the transmission really hitting the sweet spot around 3rd or 4th — but even 5th gear had plenty of pull. The MagneRide active suspension also shined brighter in the GT, and Sport mode firmed and tightened every aspect of the drive from suspension to steering.
I hadn't been in a manual transmission for a few years for myriad reasons, so I was a tad nervous to get behind the wheel of a fairly powerful beast and head down a highway most known for it's legendary twists, turns and steep drops. But the clutch was so intuitive, the rev matching so dead on and the shifting so effortless that I was back in that saddle in no time. I wasn't taking the turns quite like a local (I'm not about to take a tumble down the side of the San Gabriel Mountains) but I did hit a confidence and speed I didn't expect.
It's impossible not to have fun revving a V8 up high and shifting fast. Selecting between drive modes via buttons of the steering wheels resulted in a smooth yet noticeable transition from normal to sport. It felt comfortable and completely intuitive. When I got stuck behind some slower traffic, my usual cool shifted. Who were these Kia Soul drivers in my way? I wanted to go, go, go. And that's what this car does for you.
My co-driver was a native to southern California and extremely familiar with the Crest. He had far more success throwing the GT into the curves and pushing the engine through the brief straight aways. Even during hard driving however, myself and my co-driver were comfortable. That brings me to another aspect of the Mustang GT — it's so accessible. It's a great first-time sports car. It's comfortable and operates like a regular car, only with incredible power and performance right at your fingertips. You might not always drive it like a deviant who needs their driver's license expunged, but the option is always there. If I had a few more days to master the highway, who knows what kind of incredible kicks could have been had.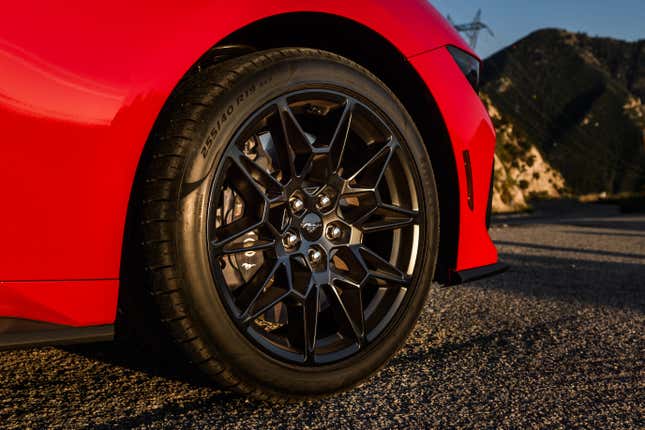 Mustang represents more than just enthusiasm for a certain brand; it is a life-long search for the American dream of somehow getting better every year while maintain tradition. Even the folks building Mustangs out in Flat Rock, Michigan are often owners and enthusiasts of the brand. Mustang is an affordable thrill, and just for a little more scratch, you can have a lot more thrills. Let's face it, nothing quite compares to the growl of a real V8 and six speeds of possibility at your fingertips. Well, possibly the Ford Mustang Dark Horse. But that's a review for another day.
2024 Ford Mustang GT Premium Fastback Specs
Engine type
Premium Unleaded V-8
Transmission/Drive
Manual w/OD