The 2024 Toyota Land Cruiser is all about a return to form. When Toyota was designing the new Land Cruiser, then-CEO Akio Toyoda asked his development team to bring the model back to its origins, as Car Watch reports. This meant a return to a "light-duty" off-roader that could easily be identified as a modern successor of classic Land Cruisers, which, naturally, calls for a two-tone roof.
If Toyota Sold the FJ Cruiser Today It Would Be Such a Hit
There's hardly a more iconic design touch that we immediately associate with the Toyota FJ40 than a white roof. Indeed, when Toyota wanted to revive the Land Cruiser 40 Series in a modern guise with the mid-aughts release of the FJ Cruiser, the carmaker chose a two-tone roof to make that visceral connection with the SUV's past — the FJ's white roof worn like a humble crown, offsetting the bright blue or yellow body paint of the SUV.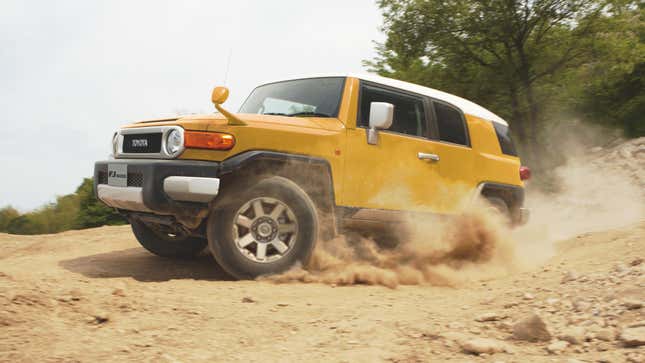 While it's unlikely that Toyota will ever release a model as radical as the FJ Cruiser again — two-door off-road models are apparently a crime against the shareholders in our modern landscape of oversized trucks and SUVs — at the very least, Toyota made good on its design edict to "integrate tradition and modernity." The new Land Cruiser does a damn fine job of updating the look of the new SUV while nodding to its past.

When Toyota unveiled the 2024 Land Cruiser, known as the 250 Series in its home country of Japan, the company showed off two concepts, or prototypes, one of which wore the classic livery of the LC: bright paint capped off with a white roof. And while I'm at it, I'll take a moment to say how pleased I am that Toyota insists on the return of yellow paint. Hot damn, is there any happier car color than yellow? I really don't think so.

The concepts that took to the stage at the global debut of the new Land Cruiser look nearly identical to production models announced for the U.S., where the Land Cruiser 250 Series will simply be known as the Toyota Land Cruiser, since the latest Land Cruiser 300 Series will not be sold in America — thereby making the numerical designation unnecessary.
In Japan, the 250 Series will go on sale in the first half of 2024, and it'll be wearing throwback livery and rounded headlights. So far, it's unclear if that specific combination will be available in the U.S., but if Toyota wants to release another future classic like the FJ Cruiser, it would be wise to make the friendly, two-tone, rounded headlight Land Cruiser an option from the start.