My once-sketchy 2013 BMW F800GS is getting more rideable by the day. The new tubes, tires, and bearings did most of that work, ensuring the bike would actually lean over when asked, but the list of repairs was still a long one. This past weekend, however, that list got a little bit shorter.
Racing Tech | How Formula E's New Front Powertrain Extends Battery Life on its Race Cars
Despite my love of motorcycling in the rain, the last few downpouring days were better for wrenching than riding. I holed up in the bike garage, got my hairdryer, Gatorade bottles, various rubber hoses ready, and prepared to cross out some lines of my spreadsheet. Here's what work the GS got this weekend.
(Full Disclosure: After writing up my list of problems with the bike, Motul and Optima reached out about sending me some fluids and a new battery. After much deliberation, I took the companies up on the offers. Motul sent brake fluid and a chain care kit, and I'm told enough oil for a fresh change is coming shortly. Optima sent a new Orangetop lithium battery.)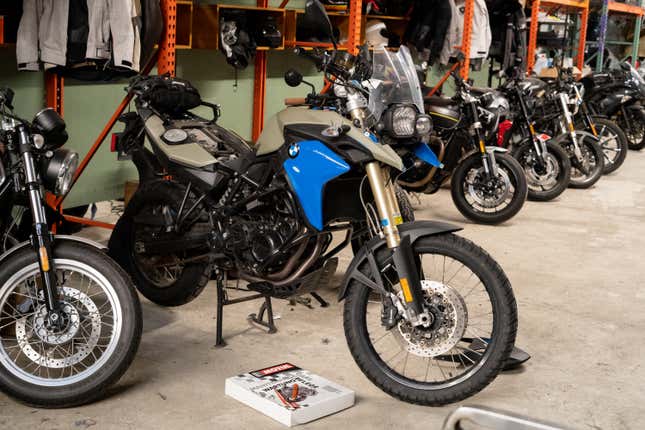 Vinyl Wrap Removal
In all prior blogs about this bike, it's been wrapped a sort of army green. I never hated that color, but from my first days with the bike I knew it was coming off — the blue hidden underneath was just too good. For a while, I thought about bringing the bike out to a wrap shop, and documenting the process of wrap removal in a how-to guide.
Then, it got really hot in Brooklyn.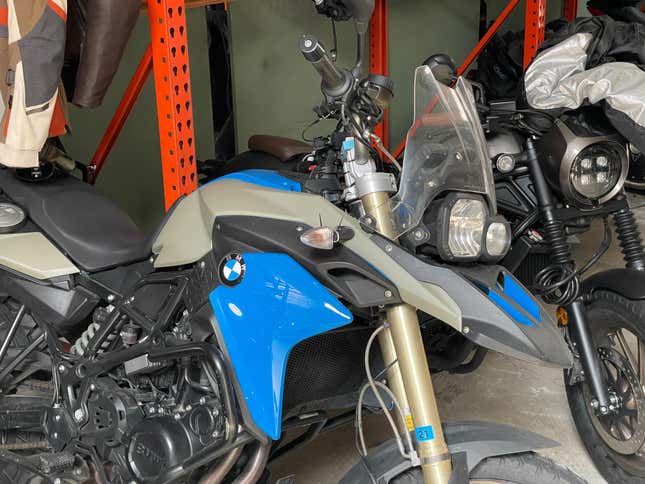 After a long ride on a 95-degree day, the rough edges of the vinyl wrap that I'd been absent-mindedly picking at started to come off easily. Too easily. What if I just... kept pulling? Used the heat of the sun to remove my vinyl wrap and restore the bike's former factory-color glory?

Never mind that I decided to do this after a hot ride, once I'd already parked inside. And, never mind that said ride ended after sunset, meaning temperatures had been on their way down for hours. I had an idea in my head, and I was not going to rest until the bike was blue again.
This was a bad idea. Do not do this.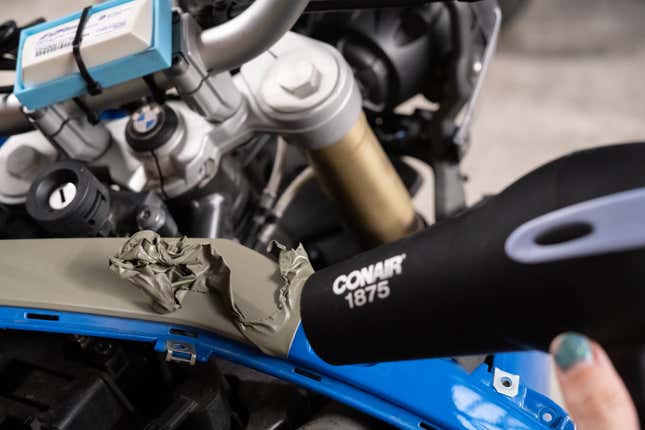 After ending up with three panels covered in vinyl adhesive, I gave in and returned the next day — Saturday morning — with Goo Gone, microfiber cloths, and my hair dryer. Focused heat is the name of the game, far more effective than the power of the sun, and the remaining vinyl came off with ease. Heat, pull, heat, pull, taking extra care around the sharp corners and areas of thin paint, followed by a coat of Goo Gone on every painted panel to remove the last stubborn bits of glue.
With proper technique, most of the vinyl came off without ruining any of the factory finish. There are some spots that could use a touch-up coat or two (including one where the paint appears to have been buffed straight through during vinyl prep), but I'm not incredibly concerned. It's an adventure bike, it's going to get scraped up anyway.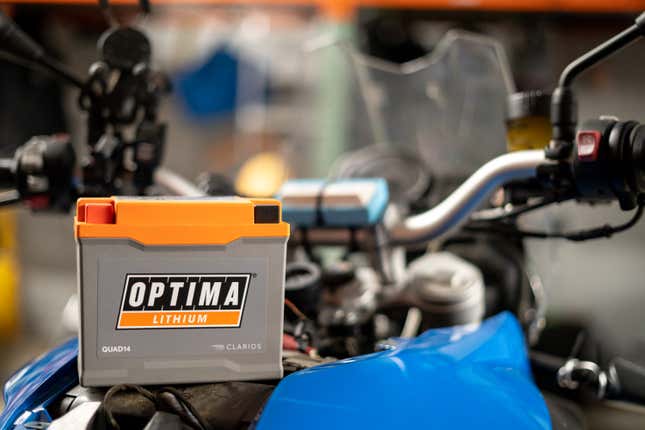 A Shiny New Lithium Battery
When I first rode my F800GS home from the seller's house, there was an odd moment where the bike stalled and wouldn't restart. It lasted only a few seconds, but during those few the bike simply didn't turn over — like it lacked the power to do so. I threw a battery on my fix list, resolving to make it a priority if the starting issue ever reared its head again. Then, Optima showed up to head off the problem for me.
I've been curious about lithium motorcycle batteries for a while, ever since I watched FortNine's guide to bike batteries for the second or eighth time. My bike came to me with a spill-proof AGM unit, but lithium promised lighter weight for the same functionality — what's better than that?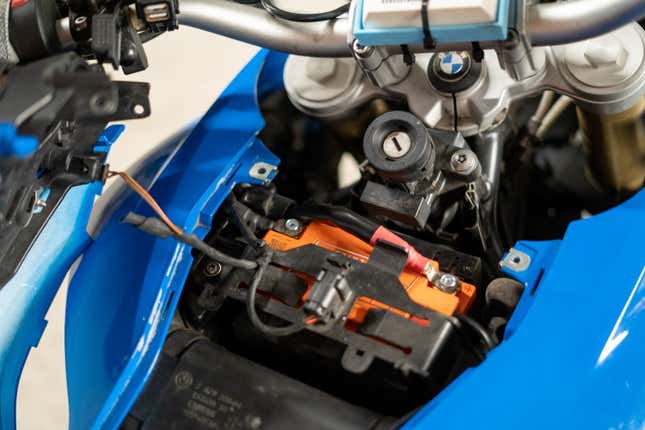 Fitting the battery was, admittedly, something of an effort. The little lithium brick is smaller than the outgoing AGM unit, meaning you need to mix and match bits of included foam spacers in order to stop the battery rattling around within its enclosure. This took a few tries to get right, and ended with a somewhat concerning amount of pressure on my battery tie-down just to get the terminals barely in reach of the stock cables. It all works together, it's secure, but getting it there took some doing.
While riding, I can't say I notice the difference. My F800GS is a big, heavy adventure bike, weighing in at 473 lbs with a full tank of gas (and not counting those aftermarket crash bars my bike wears) — a small battery simply isn't going to be a significant percentage of the BMW's weight. But, with my dreams of adventure on the horizon, there's a feature besides weight that excites me.
Optima calls it CPR — a button to resuscitate your battery. The lithium brick monitors its own voltage draw, keeping an eye on parasitic loads and shutting itself off before it's drained too low to turn a starter. On a multi-day trip, this should ensure the bike starts every morning, no matter how far from a trickle charger you are. The feature isn't unique to Optima, but it's the part of upgrading to lithium that excites me most — a security blanket for motocamping trips.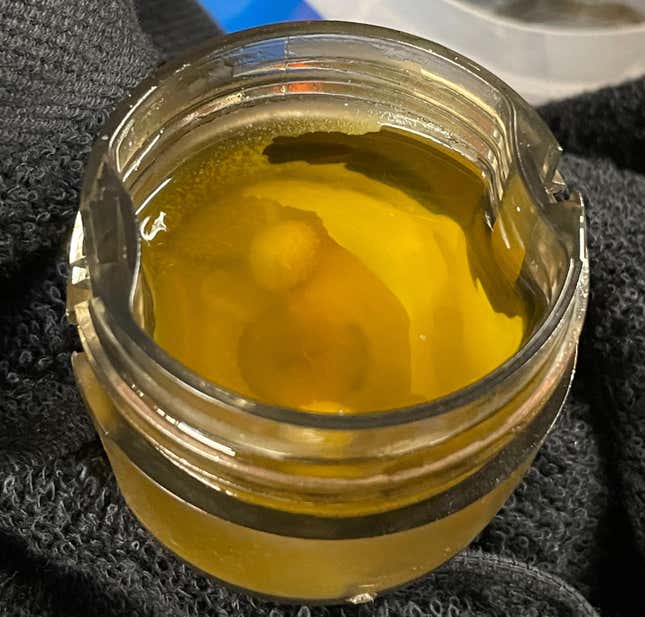 Fresh Brake Fluid
Have you ever seen brake fluid? If you haven't, that's OK. As you might be able to guess from the name, brake fluid is traditionally a fluid — a liquid, rather than a solid, gas, or plasma. So imagine my surprise when I opened what I thought was a cloudy brake fluid reservoir, only to discover that the plastic housing was perfectly fine — the brake fluid inside had simply congealed.
This, to be honest, was a surprise. I didn't really think brake fluid could change states of matter, let alone gelatinize. It looks like the bits of fat that sit atop a can of Progresso chicken soup, before they dissolve into the broth with heat. Man, I could fuck up a bowl of soup right now. On god.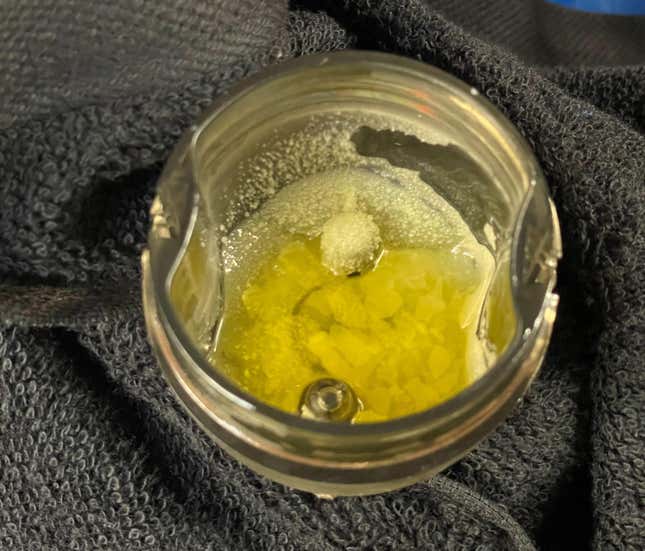 On second thought, I may have lost my appetite. I've never seen brake fluid do this, yet searching through the ADVRider forums shows it's not unheard of with this platform. No one seems to know why exactly it happens, but it sure does. The solution is fresh brake fluid at regular intervals, which it appears my bike hasn't had for quite some time.
This meant my first-ever brake fluid flush was going to be an interesting one. I ended up emptying both master cylinders from the top using a siphon pump, then cleaning all the gunk out as best I could with rags before refilling with fresh DOT4 and beginning the bleeding process. None of this solidified brake fluid seemed to come through the bleeders, so maybe it all stayed in the master cylinder. Probably not, but I can hope.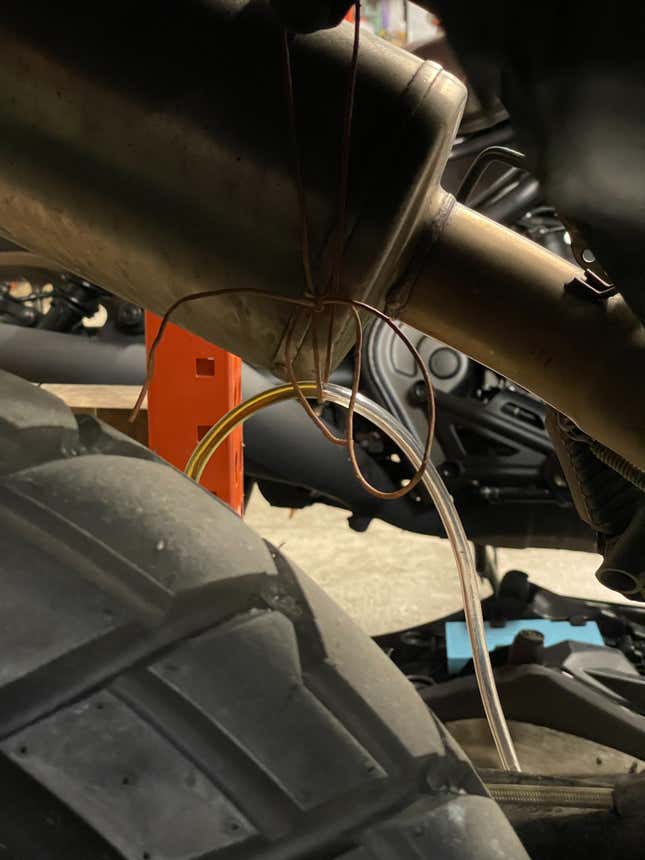 A video from Ari Henning for RevZilla introduced me to a great little tip for brake bleeding. Elevating the hose above your bleeder nipple gives you a better view of the fluid as it drains — perfect for watching old fluid turn to new when your brake caliper is on the opposite side of the bike from your pedal or lever. I used a bit of leather cord to elevate mine, and it worked out great.
Given that this was my first ever brake bleed, I'll keep checking over the system for the next few rides to ensure I did everything correctly. After one test ride, however, everything seems to be in order. I even engaged ABS both front and rear on the wet, slippery roads, and all functions seem to be okay. Hopefully that's the last I'll see of the weird brake gel.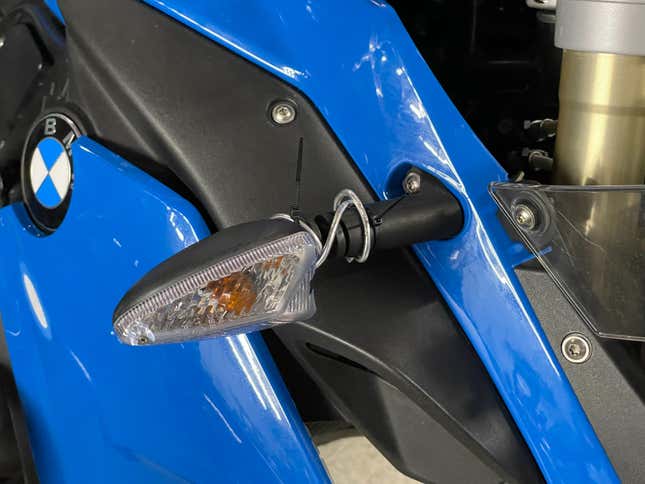 Also, My Broken Turn Signal Is Now Even More Broken
For a while now, my front-left turn signal has been held together with armature wire and zip ties. The arm of it snapped shortly after I bought the bike, likely a result of my initial drop followed by rides over broken cobblestone streets, but a bit of armature wire from my kitchen's junk drawer managed to hold the light in generally the right direction.
Unfortunately, it appears that the added weight of the wire and zip ties but too much strain on the single bolt holding the signal to the bike. On my way to RevZilla over the weekend, this happened: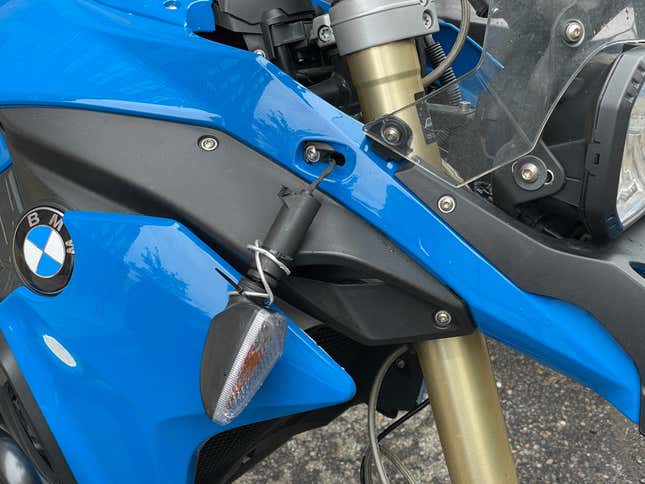 This is what we in the industry call "not great." RevZilla didn't have any turn signals in stock that I loved, so I got to fixing what's left of this indicator back at the garage. A set of wire cutters got the rubber light stalk away from the cables, and I was able to unwind the armature wire into a kind of surrogate arm to hold the light in place.
It doesn't work well, and it certainly won't pass muster with any kind of inspecting body, but it worked long enough for me to test out the brakes. I'm thinking I may try and make a set of Motogadget m-Blaze Pin signals work in place of the massive stock incandescent housings. Not only will they clean up the look of the bike, and bring it into the 2020s, but it would be nearly impossible for me to break one with a drop. Can't land the bike on your turn signal stalks if you don't have turn signal stalks.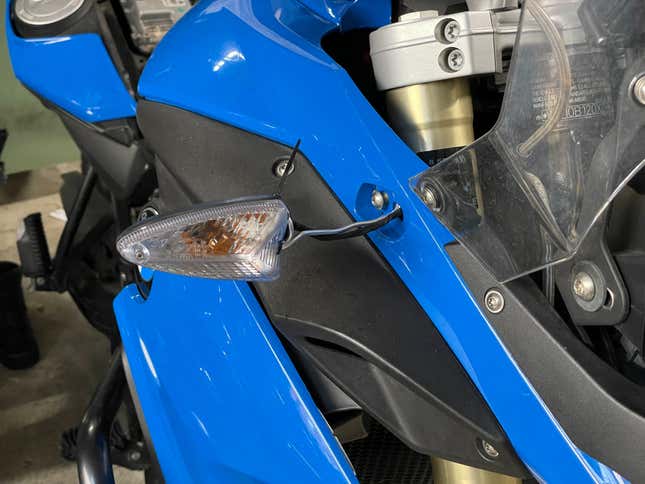 So that's the current state of the bike. Turn signals have shot their way up the priority list, making them likely the next repair I do. The brakes have also begun to squeal just the slightest bit, so I'll need to redouble my efforts to find a good pad and rotor combo for this bike — everything fresh, everything working together as intended. The fix list grows ever shorter, but it's still far from done.