Yesterday, we got our first look at the 2024 Porsche 911 S/T. Weighing in at only 3,056 lbs, the new 911 S/T is meant to be the ultimate road-going 911 and pairs the 911 GT3 RS's 518-hp flat-six with a manual transmission. Only 1,963 will be built with a starting price of $291,650, so best of luck to you if you were hoping to add one to your collection. If you do get one, though, you should know that you'll also be given the opportunity to purchase a limited-edition watch from Porsche Design to go along with your new car.
It's called the Porsche Design Chronograph 1 – 911 S/T, and it's only available to 911 S/T owners. And if there's one thing that Porsche wants you to know about it, it's that the watch is all about lightness, just like the car. So the case is uncoated titanium, and, uh, that's about it. The movement is a Porsche Design's WERK 01.240 that appears to either be based on or at least heavily influenced by the Valjoux 7750.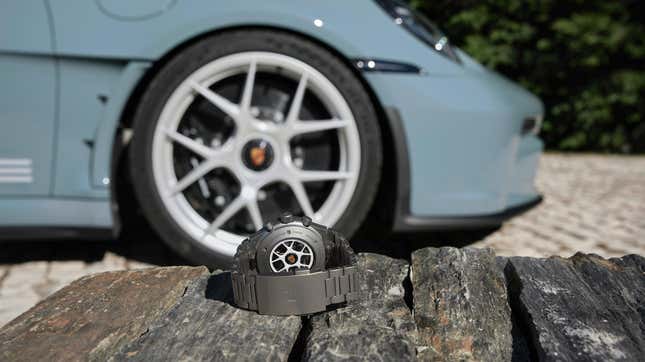 You do get an exhibition case back this time around, although that view is somewhat obscured by a rotor designed to look like one of the magnesium wheels that you can order on the 911 S/T. Which is certainly... a choice. The flyback chronograph is also COSC certified.
What really stands out the most, aside from perhaps the IWC Pilot's Watch Chronograph vibes that the dial gives off, is the decision to include a six-speed manual graphic between the one-o-clock and two-o-clock positions. Yes, the 911 S/T is manual-only, and since very few people are going to know what that car is, they may not know you drive stick.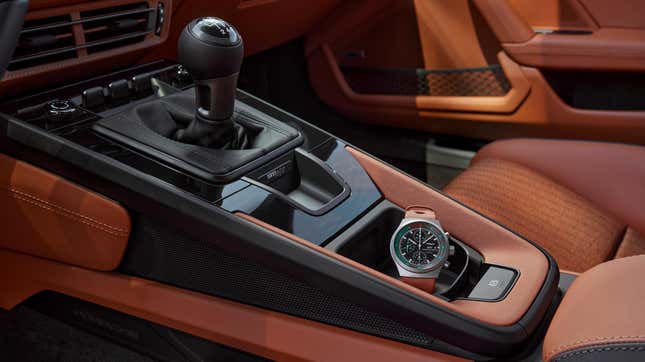 But does anybody really need their watch to advertise that to the world? Especially in such an awkward position on the dial? It's already fairly crowded as it is. Maybe we're wrong, and this is actually something 911 S/T owners are going to be super excited about.
It's not like we have $300,000 (plus dealer markup) to spend on a car plus another $13,500 to get the matching watch. It's possible that if we had that kind of money, we'd understand. But from the outside looking in, the tribute to the six-speed manual just detracts from an otherwise nicely designed watch.