If seven automakers decide to join forces on something, you'd figure it's got to be for a good reason. Today, it's the need for a functional, accessible electric vehicle charging network that has united BMW, General Motors, Honda, Hyundai, Kia, Mercedes-Benz and Stellantis. On Wednesday, the manufacturers announced a public charging joint venture that aims to pepper North America with 30,000 new chargers, fitted with both CCS and NACS plugs, in the coming years.

Hyundai Considers Jumping On The Tesla Charger Bandwagon Too
According to a press release courtesy of Stellantis, the effort will begin to show results about a year from now, in the summer of 2024, when the first stations are opened. Canada is slated for "a later date." (Sorry, friends to the north. You always get shafted, except when it comes to buying Subaru BRZs. There, you got us beat.)
Based on the latest data from the U.S. Department of Energy cited by the unnamed joint venture, right now there's about 72 EVs for every DC fast charger in the country, for a total of 32,000 chargers. It's said that Tesla claims about 21,000 of those. The agency believes that number will probably need to rise six-fold to support all the EVs projected to be on American roads by the end of the decade. This plan gets us a little closer to the ideal, though there's still clearly much more work to do.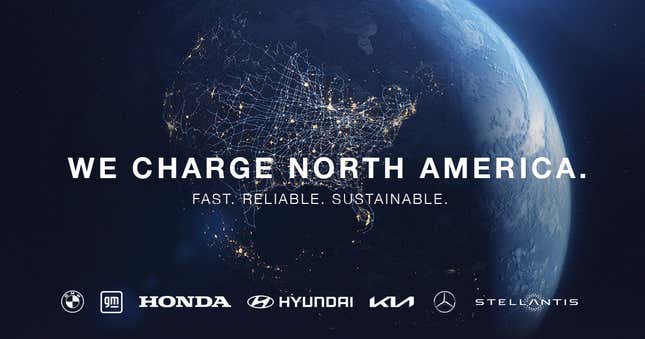 Because people may be spending a hot minute at these charging stations, the automakers' joint venture will have to involve much more than just charging. Cue the obligatory restrooms, restaurants and retail experience:

Focused on customer comfort and charging ease, the stations will be in convenient locations, offering canopies wherever possible and amenities such as restrooms, food service and retail operations either nearby or within the same complex. A select number of flagship stations will be equipped with additional amenities, delivering a premier experience designed to showcase the future of charging.

Initial plans call for the deployment of charging stations in metropolitan areas and along major highways, including connecting corridors and vacation routes, aiming to offer a charging station wherever people may choose to live, work and travel.
If there's one objective win here, though, it's that these terminals will utilize the respective brands' apps and payment platforms:
The functions and services of the network will allow for seamless integration with participating automakers' in-vehicle and in-app experiences, including reservations, intelligent route planning and navigation, payment applications, transparent energy management and more. In addition, the network will leverage Plug & Charge technology to further enhance the customer experience.

That's good, because chances are you might have, say, the Hyundai app on your phone already as a Hyundai owner, and it'd be really nice not to have to download yet another one for "Americharge" or "ZapNA" (thanks Rory) or "Y" (thanks Steve). This company doesn't have a name yet, but I can't wait to learn about it.
Moniker notwithstanding, the joint venture is "expected to be established this year, subject to customary closing conditions and regulatory approvals." Yes, charging's a mess that's becoming messier; if a bunch of car companies have been planning on doing this for a while, they probably could've saved themselves headaches and expense and simply built these stations and their cars with CCS plugs, and relied on adapters for NACS compatibility. At this point, let's just be fortunate they're doing anything at all.