Subaru has a long history in rallying, for over four decades now, and, on Wednesday, it unveiled its latest car, a WRX but not an STI. It is the Subaru Motorsports WRX Rally. It is 320 horsepower, limited by class regulations, and a rally car, the only car anyone ever wants.
We're Driving the 2024 Subaru Crosstrek, What Do You Want to Know?
You can't buy this car (at least yet, until Vermont SportsCar, Subaru's partner, possibly decides to sell it in a few years' time or something), but you will be able to see it this year in the American Rally Association Championship, starting at the Ojibwe Forests Rally in Detroit Lakes, Minnesota, on August 24 and 25. At some point later this year, Travis Pastrana, a driver of some renown, will also drive one of these cars in ARA competition.
From Subaru's release:
Built for competition by technical partner Vermont SportsCar, the new rally car has been engineered from the inside out for maximum performance under current ARA Open 4WD specifications and regulations. Starting with WRX number 1 – the very first current-generation Subaru WRX sold in the US – the new car was designed, built, and tested over a period of 18 months before its debut today. It is powered by a custom-built turbocharged and intercooled 2.0-liter 4-cylinder boxer engine that meets the requirements of its class, including a mandated 33mm restrictor and 22psi boost limit. To spec, the engine produces 320hp and 380 lb-ft. of torque, while a SADEV six-speed close-ratio transmission sends the power to all four wheels. Springs and dampers are from R53 Suspension, working with VSC-designed crossmembers, links, and hubs to manage wheel movement on any surface the Yokohama 15-inch ADVAN A053 gravel rally tires encounter.
Subaru and Vermont SportsCar also have safety in mind:
Much of the development of the new car focuses on the safety of the driver and co-driver, starting with a fully seam-welded body shell and an FIA/USAC-spec roll cage constructed from T45 steel. The stock WRX gas tank is replaced by an 82-liter Kevlar fuel cell, and Sparco ADV Prime competition seats feature HANS (Head and Neck Restraint System) devices, a self-extinguishing fabric liner and FIA approved energy absorbing padding.
Here is a photo of a flying car: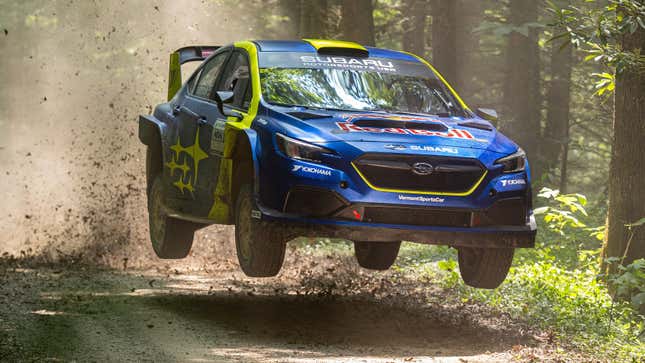 Subaru says that, "there is every chance that rally racing could be on the upswing in the United States," and we can only hope it is right. Subaru is trying to do its part, at least.