First things first: This is a review of the Nissan Z. It is not a review of any of the sports cars one might cross-shop with a Nissan Z. In this realm, the Z is no hatchet to anyone's scalpel; no flip phone, no fullback. This is a story about the Z, and how I felt driving it. To my friend's house in North Jersey. To urgent care. To the lookout on the other side of the lake — the side I've somehow never seen before, even though I've lived here for years. The sort of things perhaps you'd do with a Z, and the fun you'd have along the way. Because no matter where it took me, that was the one constant.

The 2024 Nissan Z NISMO Is Finally Here
Full Disclosure: I wanted to drive a new Z so badly that I asked Nissan if I could and they said "sure! But you're going to have to wait three months." So I did, until they dropped it off at my place last week with a full tank of 93. The owner's manual recommends nothing less.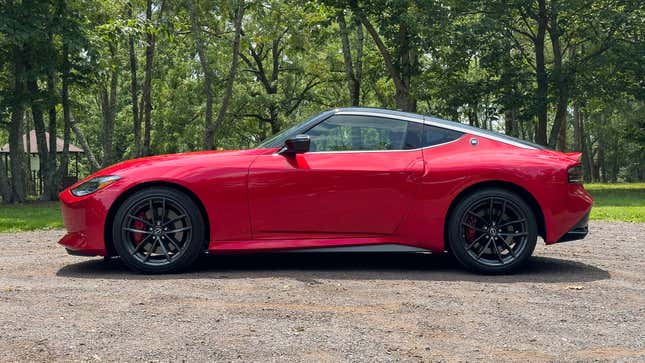 What Is The 2023 Nissan Z?
In purest terms, the seventh-generation Z — now, sans numbers — is a rear-wheel-drive two-seater. But if you're at all aware of the dialogue surrounding this car, you know there's more to the story.
Some of the new Z is irrefutably, objectively new. Like the styling, for example, which harkens back to the earliest days of the nameplate, and I think looks quite sharp. Or the three-liter, 400-horsepower twin-turbo V6 first used in Infiniti's Q50 and Q60, but never in the prior-gen 370Z. Nissan's added the requisite techy amenities, like a 12.3-inch digital instrument cluster and 8-inch (or 9-inch, for the Performance trim) infotainment touchscreen, both of which come standard. The 370Z had plain old physical gauges. Even in the waning years of its life, you had to pay a premium for a touchscreen.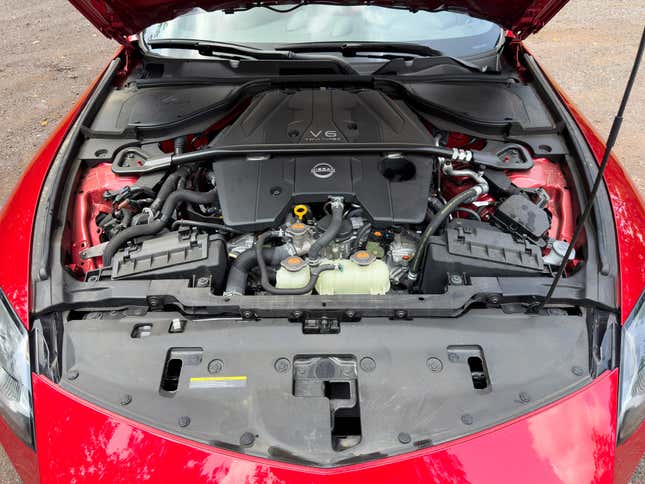 But if you really study the new Z's roofline in profile, you'll notice it cuts a familiar silhouette, cleverly obscured by the black hat our mostly Passion Red tester was wearing. The chassis code is Z34, just as the outgoing car's was. And inside, you needn't look hard to find remnants of the past: switches, climate dials, vents, dashboard gauges and door handles. All returning from the 370Z, because they had to for this mishmash to exist.

Critics will bemoan the plastics, the anachronistic orange LEDs behind the center console switches, or the half-manual, half-power adjusted seats. But this is a new car that starts at $8,000 less than the average, and all of those pieces continue to work well and feel solid. I suppose their greatest sin is that they did 14 years ago, too.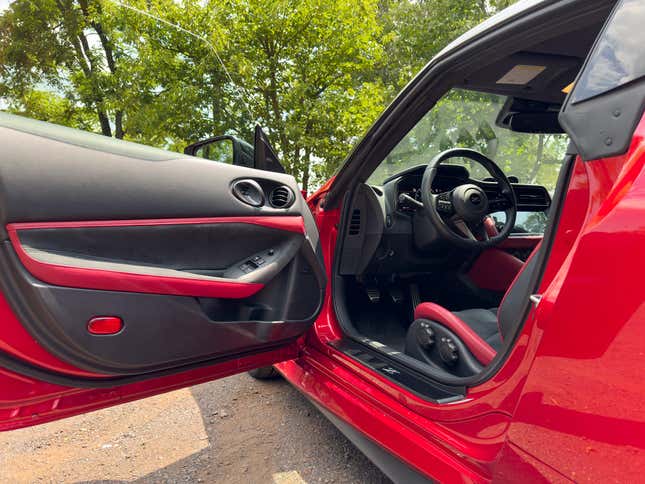 My Z cost $54,055, as it was a Performance variant with a limited-slip differential, beefier brakes and forged 19-inch Rays alloys. It also had a six-speed with the 370Z's old party piece, SynchroRev Match. Nissan won't nickel-and-dime you for the purist's choice, though, and the nine-speed auto is the same price. Words of warning: you can't get the manual in the upcoming Z Nismo.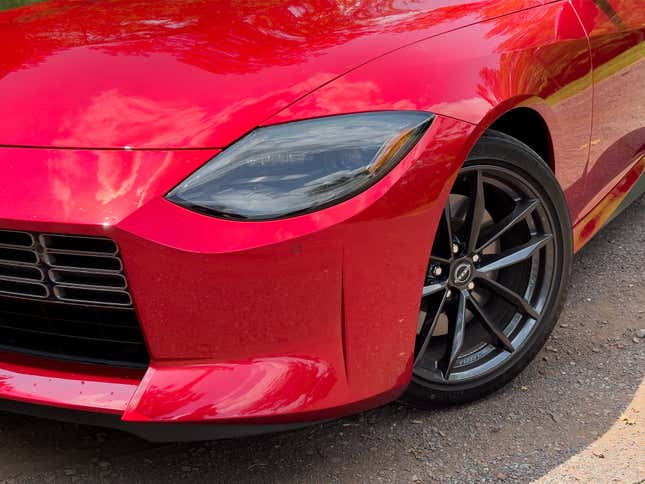 2023 Nissan Z: How Does It Drive?
With a 68-horsepower gen-on-gen increase and all 350 lb-ft of torque striking early at 1,600 rpm, "fast" is the operative word to describe the new Z. "Agile," arguably less so. The twin-turbo three-liter added approximately 150 pounds to the coupe's curb weight (the math differs depending on equipment) for a sum just north of 3,500 pounds. Nissan's engineers tweaked the front suspension's upper control arms and ditched the old twin-tube shocks in favor of monotube replacements, and the company quotes an 11 percent boost to torsional rigidity. All appreciated gains, but dynamically the Z isn't breaking new ground.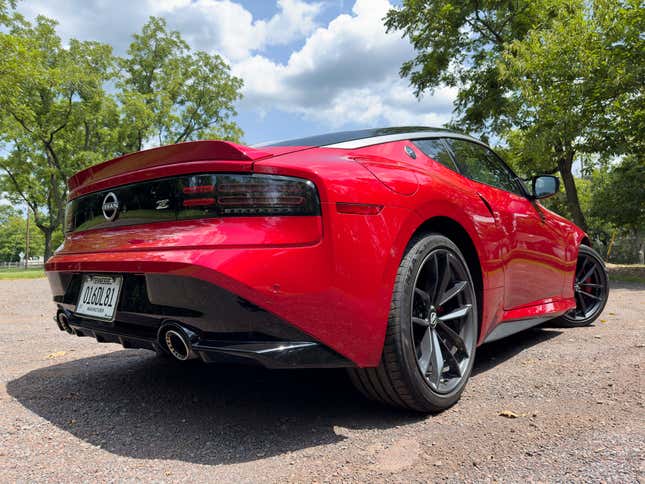 It shows. The Z's ride can be its biggest flaw. It's generally harsh as you'd imagine, but undulating pavement sends it bouncing, which is disconcerting in a tidy little coupe with gobs more power than grip.

Will that cost you at the track? Probably. In the real world? Not really. The Z is predictable and intuitive on decently-manicured forest roads. The electric steering is weighty, yet sharp; clutch travel a tad long, but nevertheless light and approachable. The six-speed is springy, solid and satisfying to throw around, and the length feels just right. I haven't been able to suss out a direct path from fourth to fifth where I'm not running into walls, but I enjoy every other aspect of this gearbox enough to live with that.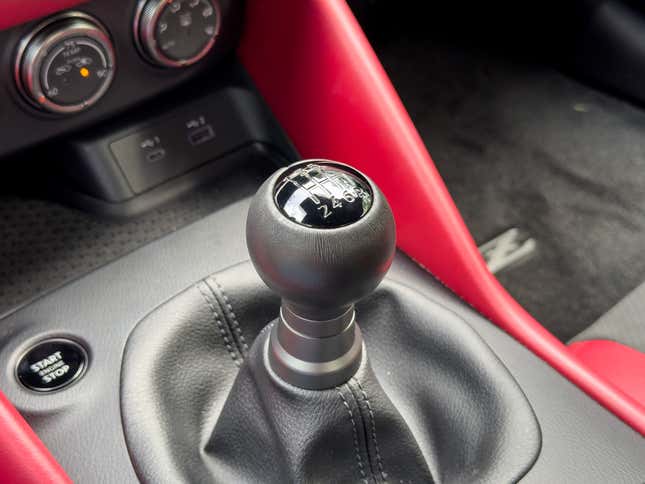 I especially enjoy SynchroRev Match, which blips the throttle for seamless downshifts every time, no tap dancing required. Sure, this feature's old news, but as someone who dailies a manual that lacks such capabilities and also doesn't heel-toe, it's definitely a convenience I could get used to.

It's also arguably the most technologically forward aspect of this car. Uncompromising enthusiasts will be happy to know they can switch it off with a press-and-hold of the S-Mode button opposite the push-button start. But in pretty much every other regard, the Z is as uncomplicated as sports cars come. It's buzzy, basic and old-school. That lends a certain charm, don't you agree?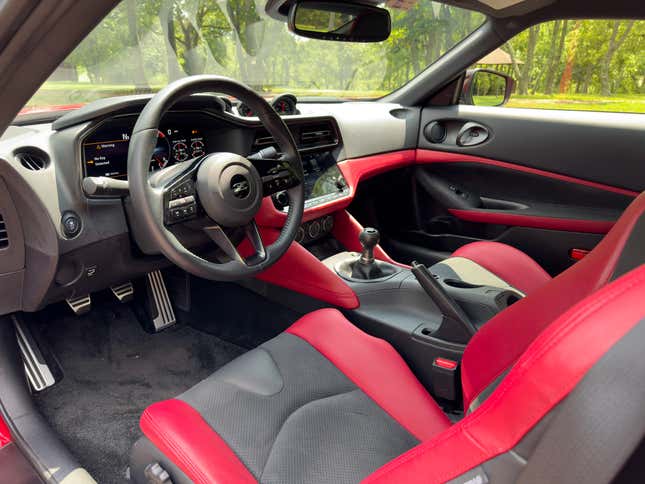 2023 Nissan Z: How's The Interior?
Well, the windshield is slender, the side mirrors are thick (the left one, in particular, will impede your line of sight to any apex ever) and rear visibility is akin to peering out a mail slot. But I promise: these hurdles can be overcome in time, with experience. You'll eventually gain a sixth sense of the extremities of this bunker.
When you do, you'll probably wish the Z used its interior volume a little more efficiently. Yes, this is a two-seat sports car, and so any expectation of packaging competence is probably misguided. Still, the floor behind the liftgate is very high and flat, so much so that more than one bag of carry-on luggage could make for a tight squeeze. Thankfully, there are small cubbies behind each seat, and they're great for holding a bag or two of groceries each.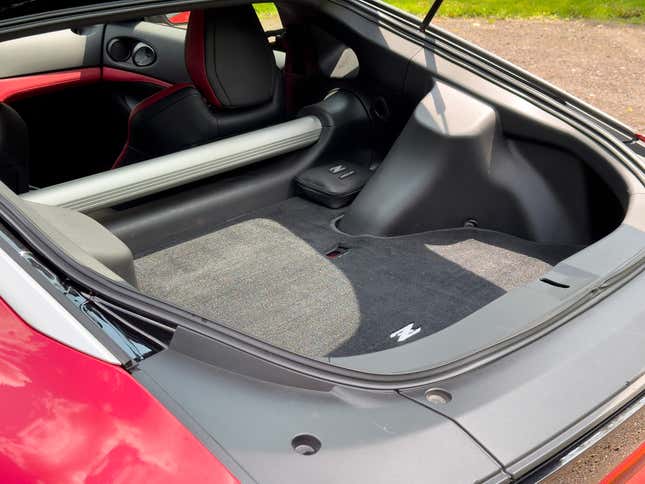 Dimensionally, the designers' hands were clearly tied here. But the furniture inside is reasonably fresh despite the old frame. The red leather looked great in my tester. (Personally I would've opted for blue because I believe every car should share more things, not fewer, in common with the Ford GT90, but that's neither here nor there.) Nissan's infotainment system isn't going to win any awards for speed or elegance, but it gets the job done, so long as you avoid the confoundingly busy built-in navigation app. And don't let anyone tell you there aren't advantages to pilfering a dated parts bin. The climate control dials may be relics, but damn it, they're dials, and you can count on them in the dark.

Ditto for the circular vents in the shadow of the door handles, another two-decade old Nissan innovation. In any other car, my left hand would block this channel, but in the Z it threads a direct jet of cool air to my face. An eighth-generation Z seems unlikely, but if it happens, Nissan better not touch these vents.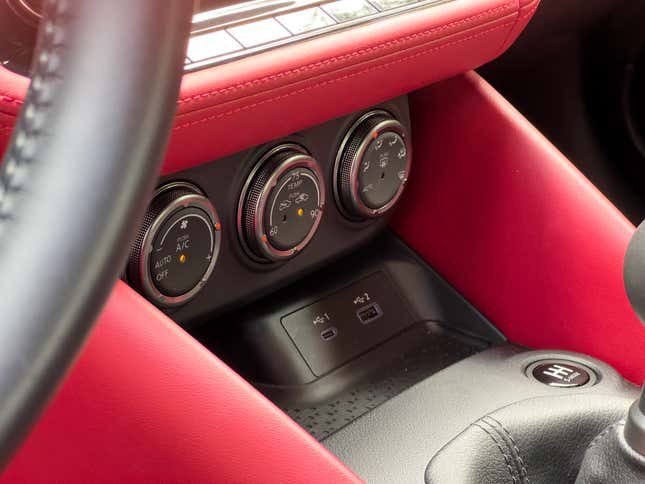 Complaints? The heated seats feel like they're powered by a couple hand warmers a side, there's no way to use automatic headlights without auto high-beams and that big center display is a recurring reminder that Nissan should've shelled out another dollar per car on a backup camera with more megapixels. Also, some people will surely wish the V6 howled with a little more emotion, or at least volume. Frankly, I just enjoyed being able to have a conversation at highway speed.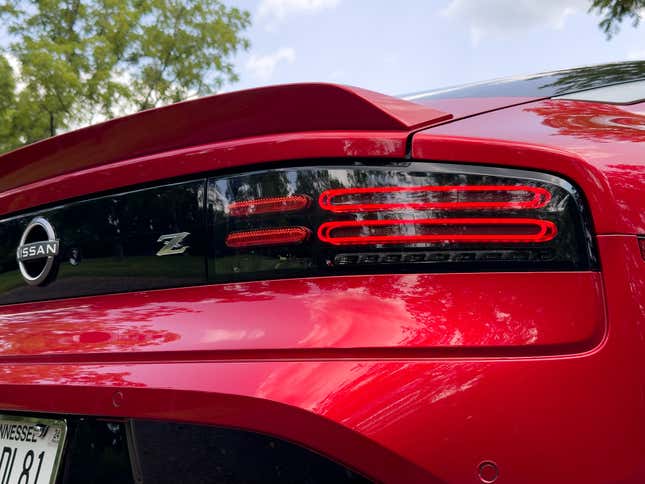 2023 Nissan Z: The Verdict
I understand why the talk around the Z is what it is. Humans have a tendency to categorize, to rank, to cast winners and losers. We detest compromise, even if the seventh-gen Z owes its entire existence to it. Hell — all relatively affordable rear-wheel-drive coupes do now. The 2024 Mustang carries over its fair share, and the Supra carries over someone else's. We as enthusiasts have a choice: Dismiss what is because of what should be, or respect these efforts to keep the spirit alive.
The Z does keep the spirit alive. It isn't a track star, nor a specialized instrument whose true capabilities are hidden to all but those skilled enough to harness them. It isn't the quickest, nor closest to perfection. What it is, is simple, unbridled joy. The kind that's dying out. Compare the Z to a rival if you like; I wouldn't necessarily bet that it'd win that battle. What I do know is that those comparisons have a funny way of not mattering at all when your ass is in the seat, there's an open road ahead and the sun's setting over Lake Nockamixon on the coolest day of the summer so far. If my time at Jalopnik taught me anything, it's that numbers could never convey that feeling.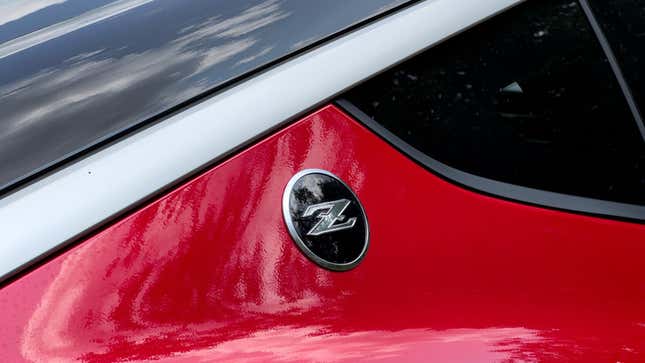 2023 Nissan Z Performance Manual Specs
Engine type
Twin Turbo Premium Unleaded V-6
Transmission/Drive
Manual w/OD