The Chevy Blazer EV was welcomed with open arms when GM finally showed it to the public in the summer of 2022. Here was a sharp-looking EV that was going to battle the likes of the Ford Mustang Mach-E with an attractive starting price of $44,995. Fast forward just over a year later and it's headed to dealers. You'll just have to wait a little longer to see that price.

Need A Fun Manual Car For My Teen Daughter | What Car Should You Buy?
The Detroit Free Press reported that Chevy has announced that Blazer EVs have started to ship to dealers from GM's plant in Ramos Arizpe, Mexico. But buyers may have a bit of sticker shock when they see the prices on those cars.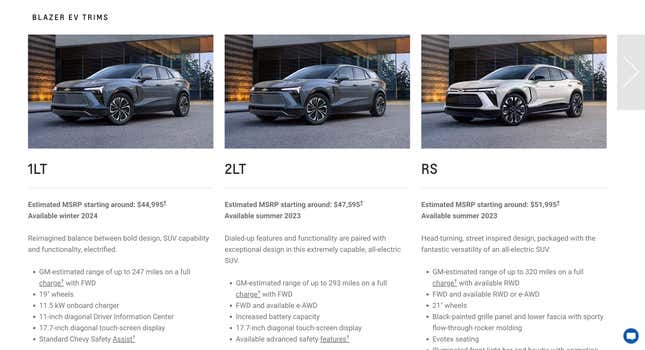 Initially, Chevy said that the Blazer EV would be offered in 2LT and RS trims with starting prices of $47,595 and $51,995 respectively. These prices are still listed in the Blazer EV section of the Chevy site.
Prices have increased from their early estimates to $56,715 for the 2LT AWD and $60,215 for the RS AWD; the rear-wheel drive RS costs more at $61,790. A Chevy rep told the Freep that the first cars being shipped were highly optioned "launch editions."
"Our initial launch editions are highly contented with features we know our customer's want and showcase the technology and customer choice the Blazer EV offers," Chevy said.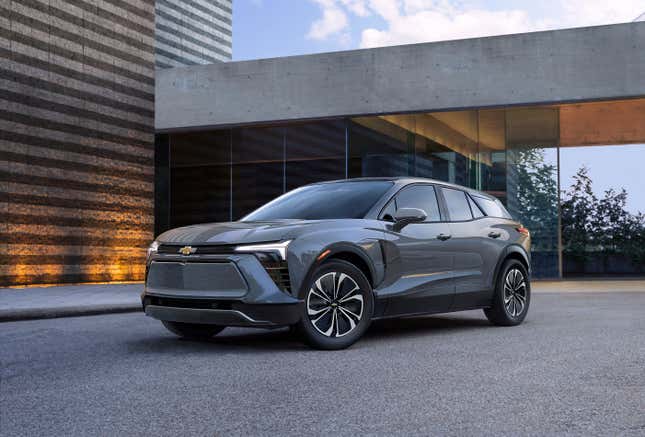 It's true that those new prices do get you some decent standard features. The 2LT comes standard with features like a 17.7-inch center touch screen, another 11-inch color screen display for the driver, synthetic leather seats, a full driver safety assistance suite, and auto opening power liftgate. The RS comes with all the features of the 2LT plus the usual RS goodies like black trim and "RS" badges, self-sealing tires, heated and cooled front and rear seats, and a heads-up display.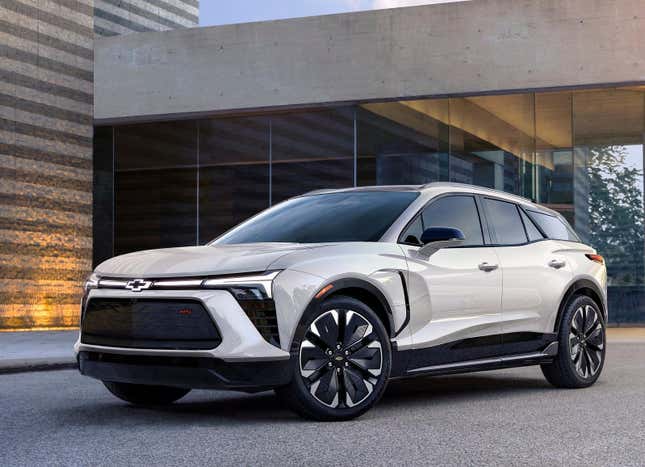 While the prices have changed, the Blazer EVs range estimates stay the same — at least for now. Chevy says the Blazer EV 2LT with front-wheel drive is estimated to get 293 miles of range; 320 miles of range for the rear-wheel drive Blazer EV RS. The all-wheel drive versions of both are EPA certified at 279 miles of range.
While these initial prices may turn off some buyers, Chevy wants everyone to know that it's still committed to affordability and that cheaper trims will be coming next year along with the police version of the Blazer EV as well as the high-performance Blazer EV SS. A Chevy spokesperson said:
There is a more affordable option coming next year, namely a 2LT FWD. We are launching with AWD which is traditionally a more expensive option than FWD. The 2LT FWD will also be equipped differently than the launch-models we are starting with now, bringing the cost further down. And as a reminder, the Equinox EV will be slated below Blazer EV from a pricing standpoint. We also have the recently-announced next-generation Chevy Bolt coming after that. Affordability remains a key tenant of Chevrolet across our lineup.