If you want to take your car on an adventure, you have a few options when it comes to sleeping arrangements. You can either fold back the rear seats and lay across the trunk, or you can take a tent and spend hours setting it up and packing it away every day of your drive. Obviously both come with their pros and cons, but does a rooftop tent fix any of their downfalls? That's what I'm determined to find out.

What Car Should You Buy: Everything is Bigger In Texas
To get to the bottom of this, I'm spending a week with a Go Fast Campers rooftop camper that's been fitted to a Jeep Gladiator truck. The unit in question has been developed by Montana-based GFC and it fits to the roof of all manner of trucks – including the Ford F-150 and Toyota Tundra pickup truck.
It looks pretty neat, fitting snugly to the roof with a custom platform covering the bed of a pickup truck. Once installed, the camper should quickly and easily fold upwards to create a sleeping space for two people and a nine-foot tall living space. With the platform installed, the camper is capable of holding up to 500 pounds.
To put this folding camper to the test, I'm heading out west for an impressive adventure from Seattle, Washington, out to Bozeman, Montana. Along the way, I'll test it in various campgrounds and national parks, and hopefully across a few different climates to see how it fares in different weather.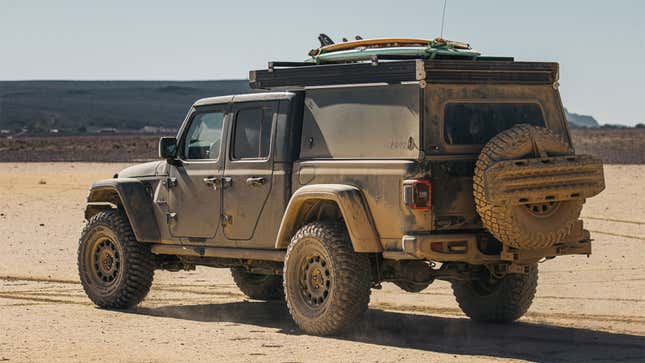 But before I pick the camper/truck combo up, I want to know what you're eager to find out about this kind of camping? Are you interested in the convenience of a camper like this and do you like the sound of not having to fill your trunk with camping gear?
What about the value of this setup? Well, I can tell you now that GFC offers a tent alone for $3,999 or this camper setup with the platform to support it above the bed of this Gladiator truck brings that up to $7,700, which sounds like a lot of money.
I'm excited to see what all that gets you, heck, I'm also excited to drive the Gladiator as it'll be my first time behind the wheel of an American pickup since moving here. So, send me any and all questions you might have about this setup via the comments section below and I'll do my best to answer as many as possible.