Volvo has never set the sales charts on fire, at least here in the U.S. For the most part Volvo has a loyal following of buyers who tend to repeat buy; they trade in their older model for the newest version. While Volvo's best sales years in the U.S. were 2007 and 2019, it seems the good times are behind the brand in the U.K. Autocar reports that Volvo is axing its sedans and wagons in Britain because of slow sales.
What Car Should You Buy: The Answer Is Always... Volvo?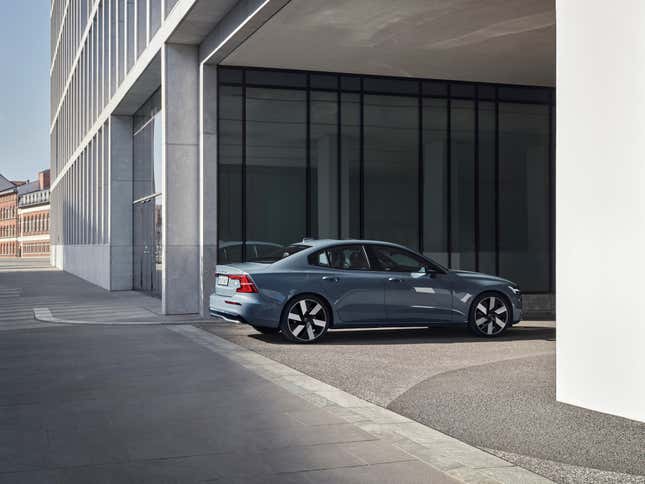 It's been a slow death for these models in the UK. It started a year ago when Volvo stopped selling the S60 for a short time. Then, earlier this year, Volvo pulled the plug on the S90, V60 and V90 Cross Country models. Car enthusiasts around the world are pouring one out for the death of the wagon, but Volvo says these models are dead because they just aren't selling. From Autocar.

Volvo recently published its global sales figures for the first half of 2023, revealing that its most popular car – an SUV – outsold its entire saloon and estate range by a margin of nearly 70%.

The S90 was the most popular of the now-discontinued cars, with 23,000 sales over the six-month period. The S60 accounted for 18,000 and the V60 just over 16,000. The V90, however, notched up just 7100.

The best-selling Volvo XC60, meanwhile, sold 106,000, remaining hugely popular even in its sixth year on sale.

In a statement sent to Autocar, Volvo said: "We continue to rapidly transform our product offer, which means not only moving towards full electrification, but also shifting to new platforms and technologies across all our cars. We will naturally need to evolve and consolidate our line-up as we prioritize fully electric cars and make this technological transition."
With the sedans and wagons gone, Volvo's UK lineup will consist entirely of its crossovers: the XC40, XC60, XC90 and the upcoming EX30 and EX90 EVs.
I reached out to Volvo USA to see if something similar could happen here, and I'll update when they get back to me. But don't be surprised if Volvo did get rid of wagons and sedans in the U.S. The brand doesn't even mention them in its sales reports: Volvo sold just over 102,000 cars last year and just over 13,000 in June of this year, and it only mention the success of two types of vehicles: battery-electric vehicles, and crossovers. So enjoy those Volvo wagons while you can.
Update: Volvo U.S. got back to us with a short statement saying the decision to get rid of sedans and wagons was specifically for the U.K. market. " Sedans and wagons will continue to be sold in many other markets including the US", Volvo said.