It's been a rather tough year for car enthusiasts – especially the ones who can't get enough of rumbly, high-displacement engines that shake you to your very core. We have and will continue to mourn quite a few of these fallen American heroes, especially here in the States. Well, all except for one.

Last fall, Ford went ahead and did something so opposite of what its two Detroit counterparts had done and committed to in months prior. The automaker didn't announce the neutering of the Mustang, nor did it say "this was it" and the Mach-E would be the only Mustang left on Earth. Nope. Instead, Ford said the Mustang would be returning for a seventh generation in its most ultimate of fighting forms, complete with its most powerful V8 to date. This car wouldn't be a swan song for the nameplate. If it was, it would at least remain on the books for the foreseeable future, long after Dodge retires its Hemi Challengers, the Camaro is finally put to rest, and Corvette goes hybrid, electric–wherever that's going. Instead, Mustang established itself as the driver's car, aiming to own the books in future as the only remaining driver's [read: also racing] car from the Big Three. The only question now was, will it rise up to exceed everyone's expectations in its new role?
Full Disclosure: Ford flew me and a gaggle of journalists out to Charlotte, North Carolina to play with the 2024 Mustang Dark Horse on track at Charlotte Motor Speedway, and on the country-mountain roads surrounding the track. I was provided flights, a room, and sustenance. Oh, and enough delightful giggles I hope to last me until the next time I'm privileged to drive a V8, if I can find one in a performance car that is not a truck or SUV.
My esteemed Jalopnik cohort and writer, Erin Marquis, had the privilege of driving Ford's slightly less-powerful Mustang offerings just a week before I encountered the Dark Horse, so I'll direct you to her pieces on the Ecoboost and the GT for your own perusal and informative reading enjoyment. And from here on out, this portion of the ride is limited to the curious thrill-seekers who also happen to have a lot of money dangerously burning in their pocket.
What Is The 2024 Mustang Dark Horse?
The star of this pony show is the Dark Horse's 5.0-liter V8 Coyote engine, tuned at 500 horsepower at 7,250 rpm. Sure, yes, you can get the 5.0L V8 in the GT, but even optioning the active valve exhaust won't get you the same kind of power – topping out at 486 hp at the same 7,250 rpm. Those 500 horses are contained or rather, controlled via a Tremec TR2160 six-speed manual, or Ford's 10-speed auto. Power is fed to a Torsen limited slip rear axle (3.55:1 for the auto, 3.73:1 for the manual), putting power to two separate sets of wheels depending on whether you've optioned for Dark Horse's Standard configuration or its Handling package. Standard receives summer-only Pirelli Zeros, while the Handling pack will sport summer-only Pirelli Trofeos.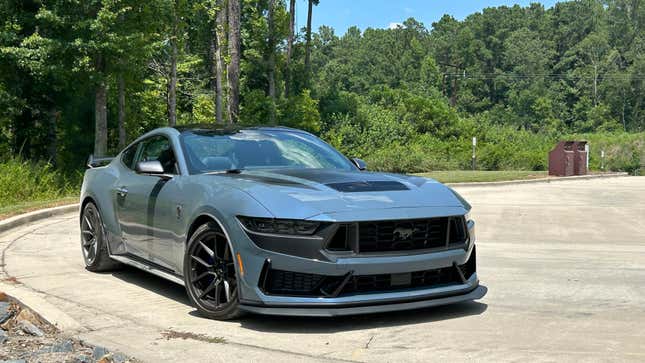 Such an aggressive car comes with just-as-aggressive accessories. In the Dark Horse's case, a black-gloss lower front bumper features bigger "nostrils" in the grille. You'll also see lower side skirts and an ever-so-slightly more tapered rear (a 0.8-inch difference compared to other seventh-gen Mustang models) accented with a fixed rear wing.
Special only to Dark Horse is its very own Blue Ember metallic paint – the signature deep blue (blue-gray in some lighting) appears almost amber (or to my surprise and delight even a pearly pink) at certain angles and under certain lights – available only with Ford's Dark Horse Appearance Package. Inside, the same appearance package includes Recaro seats featuring black suede paired with Indigo Blue bolsters and accent stitching. The same contrasted theme appears on every soft touch point throughout the cabin. And then, there's the final piece-de-la-resistance: the light blue titanium manual shift knob. *Chef's kiss.*
The 2024 Mustang Dark Horse On Track
Ford presented its visiting journalists with a fairly decent playground to unleash the Dark Horse's different setups: Charlotte Motor Speedway. Granted, our playground for the morning was a truncated version of Charlotte's roval, bringing us around the oval banking through turn 2 and turning into the road course well before the bus stop. But, the shorter setup certainly didn't take away from the fun of testing this 500-hp monster.
I opted to go big for track time and start with a manual Dark Horse equipped with the Handling Package, which provides one-inch wider front (10.5 inches) and rear (11 inches) wheels compared to the Standard Dark Horse package. Those wheels are dressed in Pirelli Trofeos that are more much more track-friendly [read: stickier, more quickly].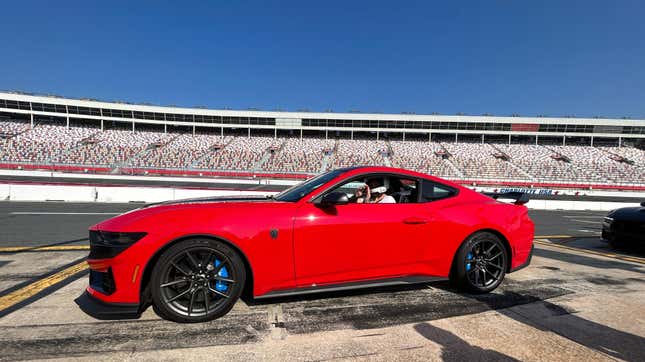 Admittedly, my first run in the manual is a bit clumsy. It's my first time on track at Charlotte, and also in the car, so I was still trying to gain some form of muscle memory, quickly, of the track and where the shifts are in the gate.
On my third run, with what would be the same car (the second run I grabbed one of the automatics), things were really clicking. This is where I most appreciate Ford's buttery clutches as I rapidly run through gears around the oval's banking, giggling as I try to redline shifts – the roaring 5.0L echoing off the stands and inside the cabin.
Here I take advantage of Ford's no-lift shifting, keeping my foot planted on the gas while engaging the clutch to attempt an up-shift. The trick is you don't have much time to do it before the 'rev-match', if you will, sends the rpms right back up to where your foot actually is on the pedal. I feel my instincts fighting me as I keep my right foot planted and discourage it from lifting as my left foot dances on the clutch. I only missed the shift window once, and the rpms soared into the stratosphere. I think it's there that I make an embarrassing remark that was captured on the in-cabin video. Regardless, I'm thankful for one less thing to think about when I do successfully shift without lifting, which provides me with a little extra brain power to concentrate on the track, my speed, and the next corner.
A short dip in speed around the hairpin, then I'm quick to the accelerator, hovering in third to try and lace myself along the racing lines. Despite trying to push myself around each turn a little more, I realize I'm not anywhere near breaking the rear loose. I try to push myself a little more, and the car remains planted. At this rate, you almost feel like you're failing the car – because the engine wants you to push it. It demands you push it. But the chassis tuning combined with larger rear sway bars, MagneRide dampers and specially engineered, wider tires, keeps you firmly on the track, almost tying up your track experience with a neat little bow. Here, I realize, you don't have to be the most skilled or experienced driver at the track, because the car provides natural assistance. It's designed to help you be a more confident driver in every track maneuver, obviously within limits.
The automatic further proves this ideal of a track assistant. The only auto I'd tracked before this was Audi's RS 3, and the Mustang is surely a far greater beast by far. I tried my hand at manual shifting, playing with Dark Horse's anodized paddle shifters, but 10 speeds are an awful lot to shift through and I surely wasn't doing as well as what Ford's engineers had programmed the Dark Horse to do.
So, after a very short fumble with that, I surrendered and let the computer do the work. Maybe allowing the transmission to find its way more efficiently to the perfect gear and rpm helped, or maybe it was helpful to me not having to think about all the things going on track, along with my braking zones, turns and downshifts, but I did find myself soaring through the course in the auto. I even hit my top speed (113 mph) on my second stint with the automatic.
Manual or automatic, it's insanely easy to get the car's speed well into the triple digits, but that glory was also so short lived for this particular adventure, thanks to the sharp hairpin at the end of the corner that required some fast hard braking and finesse to get to the rest of the road course without absolutely binning it. Luckily, no Mustangs were harmed on the trickiest of Charlotte's corners.
Dark Horse On The Open Road
Your biggest problem or worry behind the wheel of a Mustang Dark Horse will be keeping it within the confines of the speed limit. It's not that you want to intentionally speed. It's more that you're enjoying the ambiance of the exhaust note (set to your sound preference from an almost stealth-quiet to HELLOOO I'M HERE), as it responds to your shifts and throttle input. Of course, again, this car is constantly pushing you to give it more, and you subconsciously continue to chase its very tempting carrot until you take a glance at the speedometer, see you're at [redacted] and make an attempt to slow down.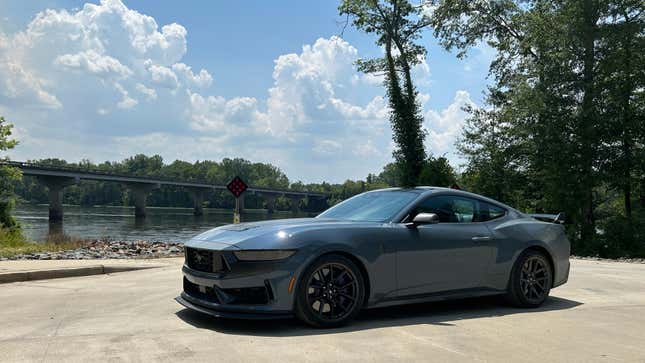 At some point, you, the weekend-warrior racer, realize you're not on a track, but instead, some quiet country twisty roads. This is opportunity calling, and you're behind the wheel of "the most powerful" production Mustang (outside of Shelbys) to-date. Your chariot to fun land has arrived, and you will get lost in the adventure. No one can blame you. Maybe not even Ford. They know what they created.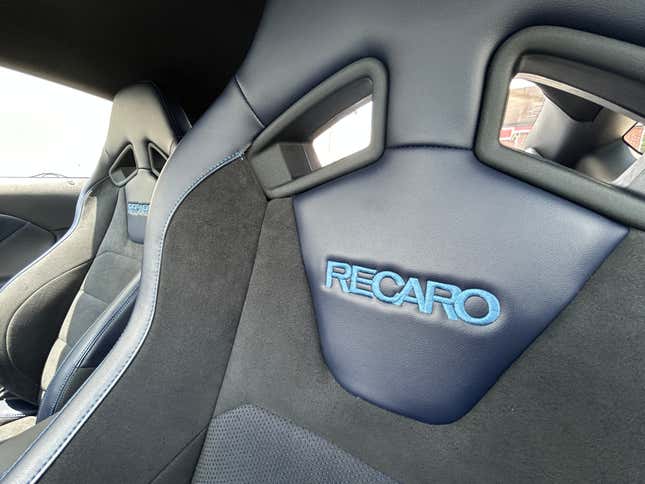 For a performance-based car infused with track day DNA, this steed (heh) is mighty comfortable to spend the day in. The Recaro seats are far from a dealbreaker for long-distance travel in this particular iteration of the Dark Horse. Sure, you could say that I felt that way because I'm a small-framed individual, so I naturally fit into these seats better than most. But I'll argue that I sat in these seats for a solid four hours, after a full morning track session, and did not require any aids in extracting my old body out of the seat.
The same comfort can be said of the ride, where the chassis and MagneRide shine bright. The same beautiful combo making your track day feel more smooth than a Hoonigan video stunt successfully achieved, is making your work day commute more tolerable than a performance car should be on the road. I tested this theory by crossing a few train tracks on our Sunday drive about North Carolina, and while we didn't hit the tracks at blasphemous speeds, we also didn't baby the car or slow down to 5 mph to traverse them either. Nothing about it was jarring or stiff.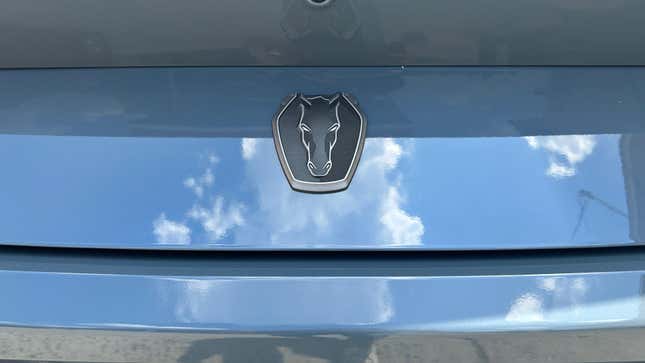 Thoughts
With the death of the V8 Hemi and Challengers and likely, the long-seemingly-dead-already Camaro, there's not much else out there to choose from when it comes to having a fun, track-capable horsepower hungry vehicle from Detroit. Which makes you ask yourself if the Mustang, or its meaner Dark Horse model, are simply more special because they might be the last, front-engine V8 American sports cars you can buy.
In many ways, yes. Absolutely that is the case. But that doesn't mean you should look at Mustang as capable of continuing to fill that engine-shaped hole for only the sake of its rarity. Look at it as something special because it is, comparatively, something special. It's a vehicle made for drivers, whether that's daily, learning how to track, or the most professional of drivers. The added 500-hp V8 beloved Coyote engine is just the cake topper to a very delicious cake.
And in the meantime, Mustang, and its Dark Horse are happy to take that well-deserved crown of V8 darling, or at least earn it before its counterparts go extinct. As I found out on the track, it will certainly be willing to put up a fight.