What's the fastest you think you could drive inside? Obviously, there are a lot of things that could influence this, like the car you're driving and the size of the room that you find yourself in. For electric race series Formula E, the answer to that question is fast, very fast.

To find out just how fast, the series pitted two of its drivers head to head before its final race of the season, which takes place in the UK this weekend. For the race, Formula E takes over the Excel Centre in London for a race that weaves in and out the exhibition center, meaning there are sections of the race that take place indoors.
To make the most of its indoor race track, Formula E decided now was the time to break the indoor land speed record, which was set at 102.65 mph back in February 2021. In order to do so, it recruited drivers Jake Hughes and Lucas di Grassi, who went head to head to try and topple the record.
For their attempts, each driver hopped behind the wheel of a modified Gen 3 Formula E car, nicknamed the Genbeta by the sport. The modified racer came with enhanced battery power output of 400kW, up from 350kW in the Gen3, and an all-wheel-drive powertrain. Each car was also fitted with a new, softer tire compound, and they were both fitted with 3D-printed front wing endplates, wheel fins and wind deflectors to optimize aerodynamics.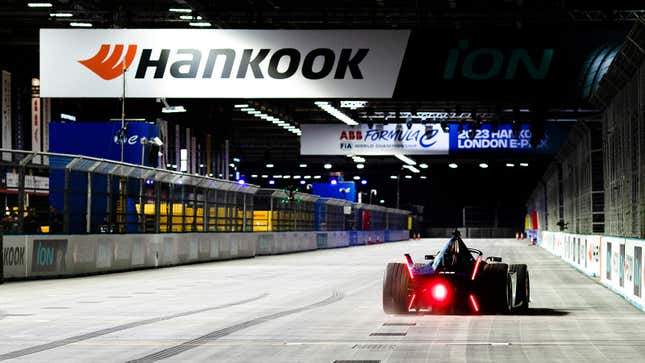 All that tinkering clearly paid off, as both Hughes and di Grassi smashed the old indoor speed record. In the end, however, it was McLaren driver Hughes that took the record, after topping the speed traps at 135.9 mph.
"Driving the Genbeta car and setting the Guinness World Records title for the fastest speed achieved by a vehicle indoors was a really special experience," said Hughes in a statement shared by Formula E.
"It wasn't something I ever imagined I'd have the opportunity to even attempt, so now to hold the record is pretty incredible, especially in a Formula E car. I didn't realize how much I wanted this record until I saw Lucas trying to break the record after me. When I was announced I was the record holder I felt a massive sense of pride."
But Formula E is about more than just straight line speed, so all eyes will be on Hughes to see if he can replicate his speedy performance in the final race of the 2023 season. As it stands, Jake Dennis currently leads the drivers standings and is 24 points clear of his nearest rival, Nick Cassidy. However, with two races in London this weekend, there's plenty of time for things to change.