It's Monday, July 31, 2023 and this is Racing Recap, your summary of last weekend's motorsports action. In Formula 1, Max Verstappen and Red Bull Racing extend their winning streak at the Belgium Grand Prix. In NASCAR, Chris Buescher punched his ticket to the playoffs at Richmond. And in Formula E, Jake Dennis wins the world championship at a rain-soaked London season finale.
Max Verstappen Wins At Spa From Sixth Place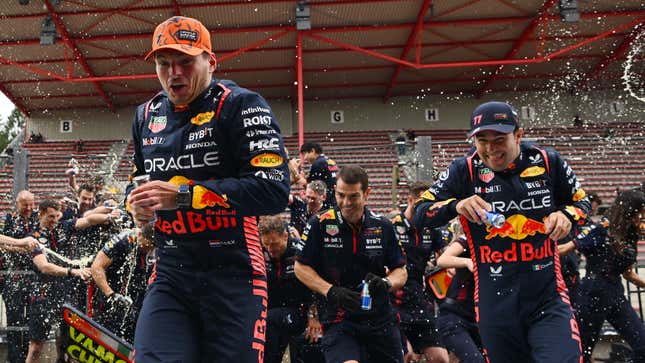 A gearbox change penalty meant a more challenging race weekend for Red Bull's Max Verstappen. The reigning World Champion maximized his grid position by nabbing pole by eight-tenths of a second over Ferrari's Charles Leclerc. His penalty dropped him five places down to sixth while Leclerc inherited pole.
Rain impacted the sprint shootout but Verstappen swept the race on Saturday. Sunday's race remained dry enough to use slick tires for the entire distance. The Dutch driver got to fourth on the first lap while his teammate, Sergio Perez, passed the Ferrari and took the lead. Verstappen was able to take the lead himself on lap 15 and never looked back. Red Bull Racing secured its 16th consecutive race victory and it's first 1-2 finish since the Miami Grand Prix in May.
Race Results
1. - Max Verstappen (Red Bull)
2. - Sergio Perez (Red Bull) - +22.305 seconds
3. - Charles Leclerc (Ferrari) - +32.259 seconds
4. - Lewis Hamilton (Mercedes) - +49.671 seconds
5. - Fernando Alonso (Ferrari) - +56.184 seconds
Chris Buescher Takes RFK's First Win Of The Season
Roush Fenway Keselowski (RFK) Racing almost led a majority of the laps at the Cook Out 400 yesterday. The race winner Chris Buescher and his team owner/teammate Brad Keselowski led a combined 190 out of 400 laps during the NASCAR Cup Series race at Richmond Raceway. The only challenge to RFK was another owner-driver, Denny Hamlin. The Joe Gibbs Racing driver and his 23XI team were competitive early on until pit-stop woes loosened their grip on the lead. A late restart gave Hamlin one last chance to win back-to-back races, but he fell short.
Race Results
1. - Chris Buescher (RFK)
2. - Denny Hamlin (Gibbs)
3. - Kyle Busch (Childress)
4. - Joey Logano (Penske)
5. - Ryan Preece (Stewart-Haas)
Jake Dennis, Avalanche Andretti, Wins Formula E Title In London
This year's ABB FIA Formula E World Championship ended in London with Avalanche Andretti's Jake Dennis becoming the series' first British champion. The first race of the season-ending doubleheader saw Dennis racing wheel-to-wheel with his title rival's Envision driver Nick Cassidy. However, Jake Dennis' title win would be cemented by Cassidy's teammate Sebastien Buemi. Buemi, not informed of who was behind him, didn't let his teammate pass. The duo made contact leaving Cassidy with a damaged front wing stuck under his front-left tire.
Cassidy would get some semblance of redemption the next day. Despite a lengthy red flag due to heavy rain at the mixed indoor-outdoor venue, the New Zealander won the race from pole to secure the teams' championship for Envision Racing. The year ends with customer teams winning both championships, Porsche customer Andretti winning the driver's title and Jaguar customer Envision beating every other team.

Race 1 Results
1. - Mitch Evans (Jaguar)
2. - Jake Dennis (Andretti) - +1.116 seconds
3. - Sebastian Buemi (Envision) - +1.668 seconds
4. - Sam Bird (Jaguar) - +3.054 seconds
5. - Edoardo Mortara (Maserati) - +4.263 seconds
Race 2 Results
1. - Nick Cassidy (Envision)
2. - Mitch Evans (Jaguar) - +4.934 seconds
3. - Jake Dennis (Andretti) - +16.295 seconds
4. - Norman Nato (Nissan) - +24.819 seconds
5. - Stoffel Vandoorne (DS Penske) - +26.290 seconds